Home
Index of Poets
Index of Poems
What's New
About This Site
Contact Info

Ghazal Singers
Index of Singers
Index of Songs
Index of Albums

Unwaan
Index of Topics

Mailing Lists
Ashaar
Lafz
Mehfil-e-Gazal

Resources
Article Archive
Biographies
Discussion Forum
Events
Humourous Poetry
Novice Nook

Links
Audio Sites
Bookstores
Dictionaries
Discussion Forums
Music Stores
Urdu Poetry Sites


vo aaye ghar me.n hamaare Khudaa kii qudrat hai
kabhi ham un ko kabhii apane ghar ko dekhate hai.n

Welcome to the Urdu Poetry Archive! Urdu poetry is like a vast ocean. Walking along its shores on the sands of time, I have gathered a few gems that I would like to share with you.
The ghazals and nazms in the Urdu poetry archive have been indexed alphabetically as well as by poet. As of 31st December, 2005 there are 1826 ghazals and nazms by 343 poets in the archive. The Index of Singers has been revamped and is now available under Ghazal Singers. This is a relatively new section and covers only a few singers at the moment.
The ghazals and nazms are written in transliterated Urdu (Urdu written in the English script). I recommend that you spend a few minutes getting to know the transliteration scheme that I use. This will make it easier for you to find and read the ghazals and nazms in Romanized Urdu. These search tips may also prove helpful in finding what you are looking for.
8th March, 2013
March 8th is the birth anniversary of Sahir Ludhianvi. A compilation of his photos can be seen at his website: Sahir Ludhianvi.

maiN pal do pal kaa shaayar hooN
pal do pal merii kahaanii hai...
Sahir Ludhianvi
5th March, 2013
February 15th was the death anniversary of Mirza Ghalib. As an on-going tribute to the great poet, a new blog showcasing his poetry, one sher/couplet at a time was launched on the same day. The blog is titled Andaaz-e-BayaaN Aur.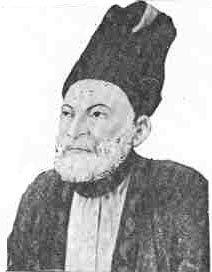 haiN aur bhii duniyaa meN suKhan_war bahot achchhe
kahate haiN ki "Ghalib" kaa hai andaaz-e-bayaaN aur
Mirza Ghalib
Sahir Ki Yaad MeN